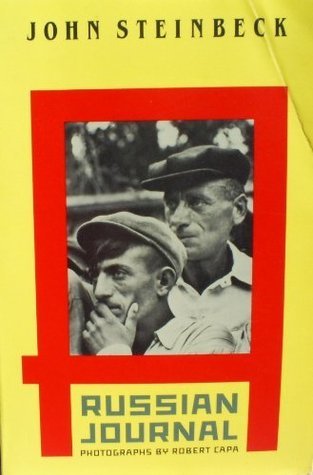 A Russian Journal John Steinbeck , Robert Capa (Photographer)
Sold out
Original price
$8.49
-
Original price
$8.49
Now back in print, Steinbeck and Capa's fascinating account of their journey through Cold War Russia

Just after the Iron Curtain fell on Eastern Europe, John Steinbeck and acclaimed war photographer Robert Capa ventured into the Soviet Union to report for the New York Herald Tribune. This rare opportunity took the famous travelers not only to Moscow, Kiev, and Stalingrad but through the countryside of the Ukraine and the Caucasus. First published in 1948, A Russian Journal is the distillation of their journey and remains today a remarkable memoir and unique historical document.

What they saw and movingly recorded in words and on film was what Steinbeck called "the great other side there . . . [the] private life of the Russian people." Steinbeck and Capa recorded the grim realities of factory workers, government clerks, and peasants, as they emerged from the rubble of World War II. Like the characters of Steinbeck's fiction, these Russian portraits are endowed with a basic human nobility. Through it all, as the travelers cope with train delays and cramped lodgings, we are given intimate glimpses of the two artists at the height of their powers, answering their need to document human struggle. Wonderfully illustrated with 70 photographs, A Russian Journal is a classic piece of reportage and travel writing.
Published
October 1, 1989 by Paragon House Publishers
ISBN
9781557782250
(ISBN10: 1557782253)
Language
English
USED BOOK
IN NEAR FINE CONDITION