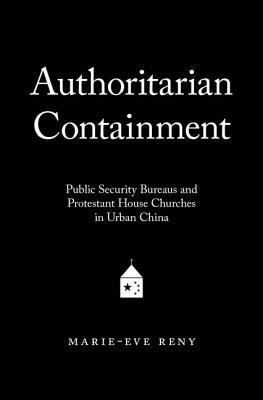 Authoritarian Containment: Marie-Eve Reny
Original price
$39.00
-
Original price
$39.00
In Authoritarian Containment, Marie-Eve Reny examines why local public security bureaus tolerate unregistered Protestant churches in urban China--an officially atheist country where religious practice is controlled by the state--when the central government considers them illegal. She argues
that local states tolerate these churches to contain the underground practice of Protestantism. Containment necessitates a bargain between informal religious organizations and the state. Even though they are not regulated, unregistered churches are allowed to operate conditionally, so long as church
leaders keep a low profile, share information as needed with local authorities, and agree that the state will not grant them formal institutional recognition.
Reny also considers authoritarian regimes other than China that employ a similar strategy to control informal religious communities. She focuses on two Middle East cases-President Sadat's control of the Muslim Brotherhood in 1970s Egypt and the Jordanian monarchy's containment of jihadi Salafists
after 2006. By reducing the incentives for local religious leaders to politicize and inducing such leaders to willingly provide inside information, governments can avoid the heavy hand of coercion and forceful co-optation.

Based on extensive fieldwork, Authoritarian Containment offers insight into the way authoritarian regimes neutralize underground religious leaders and discourage opposition to the state.
Format 
184 pages, Hardcover
Published 
August 30, 2018 by Oxford University Press, USA
ISBN
9780190698089 

(ISBN10: 019069808X)
USED BOOK IN VERY GOOD+ CONDITION