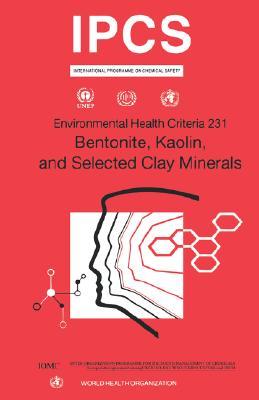 Bentonite, Kaolin and Selected Clay Minerals by World Health Organization, IPCS
Original price
$29.00
-
Original price
$29.00
This book examines the health effects of exposure to bentonite, kaolin, and selected clay minerals. Despite the ubiquitous exposure of the general population to low concentrations of montmorillonite and kaolinite, the main components of bentonite and kaolin respectively, and other clay minerals, no data are available on its effects.

Long-term occupational exposure to bentonite dust may cause structural and functional damage to the lungs, but currently available data do not conclusively establish a dose-response or even a cause-and-effect relationship. Long-term exposure to kaolin causes radiologically diagnosed pneumoconiosis but clear-cut deterioration of respiratory function and related symptoms occur only in cases with prominent radiological findings. In this respect, the composition of the non-kaolinite constituents of the clay is important.
Bentonite, kaolin, and other clays often contain quartz, exposure to which is causally related to silicosis and lung cancer as well as to statistically significant increases in the incidence of or mortality from chronic bronchitis and pulmonary emphysema.

The extensive use of bentonite or kaolin in cosmetics has not been found to produce local or systemic adverse effects. Tests have also revealed that bentonite and kaolin have low toxicity to a wide variety of aquatic species.

The biological effects of clay minerals result not only from their composition but also their particle size. In this respect, the decreasing rank order of quartz kaolinite and montmorillonite to damage lung tissue is consistent with their known relative active surface areas and surface chemistries.
Published May 1st 2005 by World Health Organization