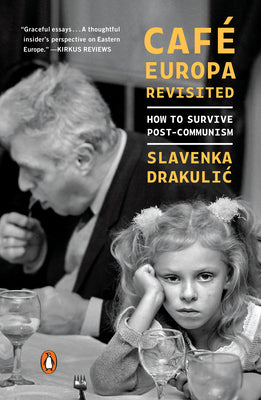 Café Europa Revisited: How to Survive Post-Communism Slavenka Drakulić
Original price
$4.29
-
Original price
$4.29
An evocative and timely collection of essays that paints a portrait of Eastern Europe thirty years after the end of communism.

An immigrant with a parrot in Stockholm, a photo of a girl in Lviv, a sculpture of Alexander the Great in Skopje, a memorial ceremony for the 50th anniversary of the Soviet led army invasion of Prague: these are a few glimpses of life in Eastern Europe today. Three decades after the Velvet Revolution, Slavenka Drakulic, the author of Cafe Europa and A Guided Tour of the Museum Of Communism, takes a look at what has changed and what has remained the same in the region in her daring new essay collection.

Totalitarianism did not die overnight and democracy did not completely transform Eastern European societies. Looking closely at artefacts and day to day life, from the health insurance cards to national monuments, and popular films to cultural habits, alongside pieces of growing nationalism and Brexit, these pieces of political reportage dive into the reality of a Europe still deeply divided.
Published
January 5, 2021 by Penguin Books
ISBN
9780143134176
(ISBN10: 0143134175)