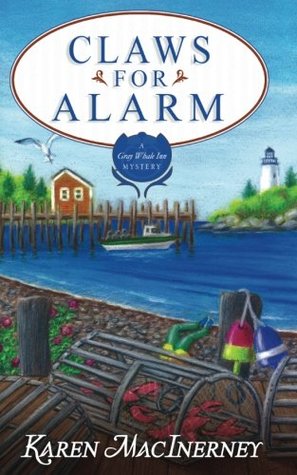 Claws for Alarm (Gray Whale Inn Mystery #8) by Karen MacInerney
Sold out
Original price
$4.00
-
Original price
$4.00
It's summertime on Cranberry Island, and things are heating up for innkeeper Natalie Barnes. She may be hosting a yoga retreat, but the mood at the Gray Whale Inn is anything but Zen. Between juggling dietary restrictions and managing flaring tempers, Natalie's about ready for a retreat of her own... far away from the inn's fit but finicky guests.

Unfortunately, there's no reprieve on the island. The lobster co-op and pier are under threat once again, this time by a new arrival whose vision for Cranberry Island looks more like a spread in Coastal Living than a quaint Maine fishing village. When the instigator turns up dead next to the co-op and the police start fishing for suspects, Natalie's dear friend Claudette is the one they haul up.

Will Natalie trap the killer in time? Or will she be next?
Published May 30th 2018 by CreateSpace Independent Publishing Platform
(first published March 21st 2018)