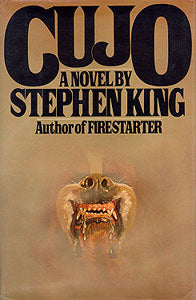 Cujo by Stephen King
Sold out
Original price
$6.00
-
Original price
$6.00
Cujo slept.

He lay on the verge of grass by the porch, his mangled snout on his fore-paws. His dreams were confused, lunatic things. It was dusk, and the sky was dark with wheeling, red-eyed bats. He leaped at them again and again, and each time he leaped he brought one down, teeth clamped on a leathery, twitching wing. But the bats kept biting his tender face with their sharp little rat-teeth. That was where the pain came from. That was where all the hurt came from. But he would kill them all. He would--

Cujo is a two-hundred-pound Saint Bernard, the beloved family pet of the Joe Cambers of Castle Rock, Maine, and the best friend ten-year-old Brett Camber has ever had. One day Cujo pursues a rabbit into a bolt-hole--a cave inhabited by some very sick bats. What happens to Cujo, and to those unlucky enough to be near him, makes for the most heart-squeezing novel Stephen King has yet written.
Vic Trenton, New York adman obsessed by the struggle to hand on to his one big account, his restive and not entirely faithful wife, Donna, and their four-year-old son, Tad, moved to Castle Rock seeking the peace of rural Maine. But life in this small town--evoked as vividly as a Winesburg or a Spoon River--is not what it seems. As Tad tries bravely to fend off the terror that comes to him at night from his bedroom closet, and as Vic and Donna face their own nightmare of a marriage suddenly on the rocks, there is no way they can know that a monster, infinitely sinister, waits in the daylight, and that the fateful currents of their lives will eddy closer and faster to the horrifying vortex that is Cujo.

Stephen King has never written a book in which readers will turn the pages with such a combination of anticipation and dire apprehension. Doing so, they will experience an absolute master at work. 
Published September 8th 1981 by Viking Press
(first published 1981)