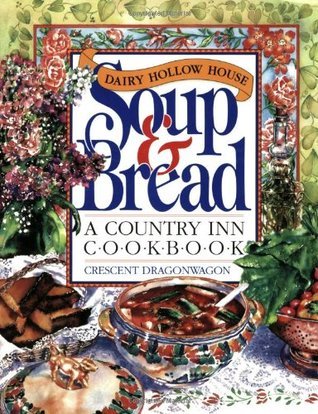 Dairy Hollow House Soup & Bread Cookbook Crescent Dragonwagon , Paul Hoffman (Illustrator)
Original price
$5.49
-
Original price
$5.49
In every traveler's mind exists the perfect little out-of-the-way inn where the bread is always fresh-baked and the beds are downright heavenly. And where the soup is gratifying, gutsy, and downright gratifying.

Since 1981, Crescent Dragonwagon-noted children's book author, cookbook writer, and innkeeper-has owned that perfect little inn: Dairy Hollow House in Eureka Springs, Arkansas.

Distilling all her soup-making, bread-baking and salad-mixing wisdom into one book, Crescent Dragonwagon presents 200 of the recipes that have made her inn a many-time winner of the Uncle Ben's Best Inn of the Year Award. Here are the pedigreed soups: Winter Borscht . la Vielle Russe, Cuban Black Bean Soup. Soups with a twist: Fishysoisse, Gazpacho Rosa, New World Corn Chowder. Soups to warm you up: Deep December Cream of Root Soup. And soups to cool you down: Chilled Avocado Soup, Mexique Bay, Orange Blossom Special. Plus dozens of fabulous breads, from Slightly Fanatic Whole-Grain Dream Bread to Rosemary Foccacia Dairy Hollow, and salads, including Beet and Apple Salad on Mixed Greens. Selection of the Book-of-the-Month Club's HomeStyle Books and Better Homes & Gardens Family Book Service. Over 267,000 copies in print.
Published
January 5, 1992 by Workman Publishing Company
ISBN
9780894807510
(ISBN10: 089480751X)
Language
English
USED BOOK
IN GOOD + CONDITION