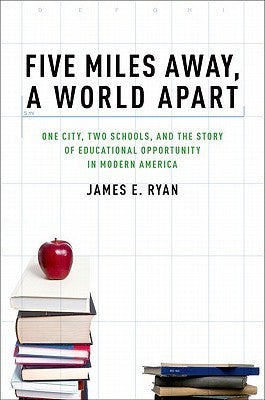 Five Miles Away, a World Apart: One City, Two Schools, and the Story of Educational Opportunity in Modern America James E. Ryan
Original price
$9.59
-
Original price
$9.59
How is it that, half a century after Brown v. Board of Education, educational opportunities remain so unequal for black and white students, not to mention poor and wealthy ones?

In his important new book, Five Miles Away, A World Apart, James E. Ryan answers this question by tracing the fortunes of two schools in Richmond, Virginia--one in the city and the other in the suburbs. Ryan shows how court rulings in the 1970s, limiting the scope of desegregation, laid the groundwork for the sharp disparities between urban and suburban public schools that persist to this day. The Supreme Court, in accord with the wishes of the Nixon administration, allowed the suburbs to lock nonresidents out of their school systems. City schools, whose student bodies were becoming increasingly poor and black, simply received more funding, a measure that has proven largely ineffective, while the independence (and superiority) of suburban schools remained sacrosanct. Weaving together court opinions, social science research, and compelling interviews with students, teachers, and principals, Ryan explains why all the major education reforms since the 1970s--including school finance
litigation, school choice, and the No Child Left Behind Act--have failed to bridge the gap between urban and suburban schools and have unintentionally entrenched segregation by race and class. As long as that segregation continues, Ryan forcefully argues, so too will educational inequality. Ryan closes by suggesting innovative ways to promote school integration, which would take advantage of unprecedented demographic shifts and an embrace of diversity among young adults.
Exhaustively researched and elegantly written by one of the nation's leading education law scholars, Five Miles Away, A World Apart ties together, like no other book, a half-century's worth of education law and politics into a coherent, if disturbing, whole. It will be of interest to anyone who has ever wondered why our schools are so unequal and whether there is anything to be done about it.
Published
October 1, 2011 by Oxford University Press, USA
ISBN
9780199836857
(ISBN10: 019983685X)
Language
English
USED BOOK
IN VERY GOOD CONDITION