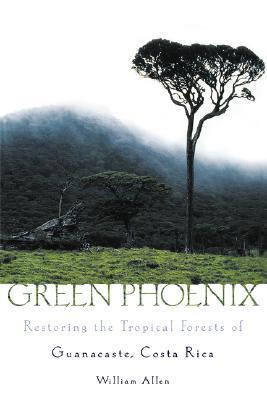 Green Phoenix: Restoring the Tropical Forests of Guanacaste, Costa Rica William Allen , Samantha Burton (Illustrator)
Original price
$18.00
-
Original price
$18.00
Can we prevent the destruction of the world's tropical forests? In the fire-scarred hills of Costa Rica, award-winning science writer William Allen found a remarkable we can not only prevent their destruction--we can bring them back to their former glory.
In Green Phoenix , Allen tells the gripping story of a large group of Costa Rican and American scientists and volunteers who set out to save the tropical forests in the northwestern section of the country. It was an area badly damaged by the fires of ranchers and small farmers; in many places a few strands of forest strung across a charred landscape. Despite the widely held belief that tropical forests, once lost, are lost forever, the team led by the dynamic Daniel Janzen from the University of Pennsylvania moved relentlessly ahead, taking a broad array of political, ecological, and social steps necessary for restoration. They began with 39 square miles and, by 2000, they had stitched together and revived some 463 square miles of land and another 290 of marine area. Today this region is known as the Guanacaste Conservation Area, a fabulously rich landscape of dry forest, cloud forest, and rain forest that gives life to some 235,000 species of plants and animals. It may be the
greatest environmental success of our time, a prime example of how extensive devastation can be halted and reversed.
This is an inspiring story, and in recounting it, Allen writes with vivid power. He creates lasting images of pristine beaches and dense forest and captures the heroics and skill of the scientific teams, especially the larger-than-life personality of the maverick ecologist Daniel Janzen. It is a book everyone concerned about the environment will want to own.
Published
January 9, 2003 by Oxford University Press
ISBN
9780195161779
(ISBN10: 0195161777)
Language
English
USED BOOK
IN NEAR FINE CONDITION