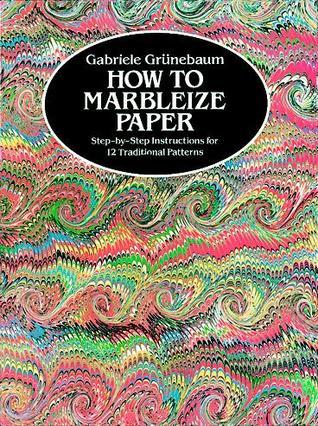 How to Marbleize Paper: Step-by-Step Instructions for 12 Traditional Patterns Gabriele Grunebaum
Original price
$4.00
-
Original price
$4.00
The beautiful centuries-old craft of marbleizing — decorating paper through the use of "floating colors" — dates back to eighth-century Japan. Today marbleizing is a newly popular craft, enjoyed for the exquisite and unique designs it produces (no two are alike) and its myriad of decorative applications.
This volume is a complete step-by-step illustrated guide to the entire marbleizing process. Artist Gabriele Grünbaum shows you how to prepare colors, form beautiful and striking patterns, and transfer them onto prepared paper. Included are a list of tools and materials and helpful suggestions for avoiding common mistakes. In addition, an informative introduction traces the history of this wonderful handicraft.
Create beautiful, versatile craft papers with colorful swirls, bold spotted designs, and exciting combed lines. Choose from 12 different patterns: Fantasy, Stone, Swedish, Wave, Comb, Snail, Bouquet/Peacock, Floral, Veined, Tiger, Oil-Color, and Oil-Color Batik.
Marbleized paper can be used for decorating books, boxes, lampshades, wall hangings, decoupage, picture frames, linings, wallpaper, greeting cards, stationery — almost any art or craft project. Artists and crafters who want to create their own original marbleized papers will find this inexpensive edition a handy guide for learning basic techniques and a rich source of design ideas.
Published
October 1, 1984 by Dover Publications
ISBN
9780486246512
(ISBN10: 0486246515)
Language
English
USED BOOK
IN VERY GOOD CONDITION