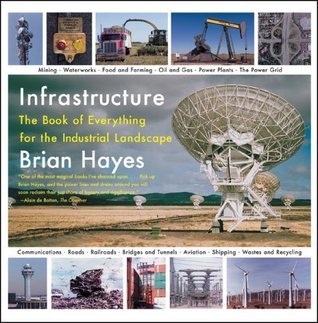 Infrastructure: The Book of Everything for the Industrial Landscape Brian Hayes
Original price
$14.99
-
Original price
$14.99
"Original, highly readable. . . . An extraordinary book."—Anne Eisenberg,

 

Scientific American
A companion to the man-made landscape that reveals how our industrial environment can be as dazzling as the natural world.
Replete with the author's striking photographs, "Infrastructure" is a unique and spectacular guide, exploring all the major "ecosystems" of our modern industrial world, revealing what the structures are and why they're there, and uncovering beauty in unexpected places--awakening and fulfilling a curiosity you didn't know you had. Covering agriculture, resources, energy, communication, transportation, manufacturing, and waste, this is the "Book of Everything" for the industrial landscape.
The objects that fill our everyday environment are streetlights, railroad tracks, antenna towers, highway overpasses, power lines, satellite dishes, and thousands of other manufactured items, many of them so familiar we hardly notice them. Larger and more exotic facilities have transformed vast tracts of the landscape: coal mines, nuclear power plants, grain elevators, oil refineries, and steel mills, to name a few. "Infrastructure" is a compelling and clear guide for those who want to explore and understand this mysterious world we've made for ourselves. 500 color illustrations.
Contents
Preface
1. Out of the earth
2. Waterworks
3. Food and farming
4. Oil and gas
5. Power plants
6. The power grid
7. Communications
8. On the road
9. The railroad
10. Bridges and tunnels
11. Aviation
12. Shipping
13. Wastes and recycling
Afterword: The postindustrial landscape
A note on the photographs
Further reading
Index
Published
September 17, 2006 by W. W. Norton & Company
ISBN
9780393329599
(ISBN10: 0393329593)
Language
English
USED BOOK
IN NEAR FINE CONDITION