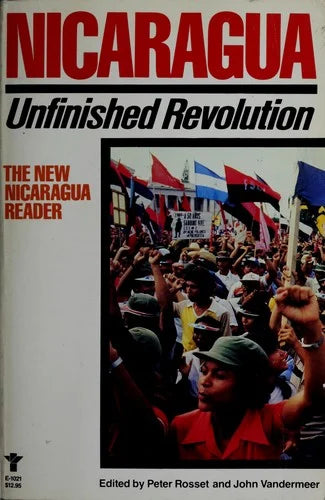 Nicaragua Unfinished Revolution Peter Rosset, John Vandermeer
Original price
$7.00
-
Original price
$7.00
Dr. Peter Rosset is based in Oaxaca, Mexico, where he is a researcher at the Centro de Estudios para el Cambio en el Campo Mexicano (Center of Studies for Rural Change in Mexico), and co-coordinator of the Land Research Action Network. He is also Global Alternatives Associate of the Center for the Study of the Americas and an affiliated scholar of the University of California, both in Berkeley, California, USA. He is the former co-director of Food First/The Institute for Food and Development Policy in Oakland, California.

He previously served as executive director of the Stanford University Regional Center in Chiapas, Mexico. During the 1980s he spent eight years in Central America, where he led several sustainable agriculture projects. Peter has taught at Stanford University, the University of California at Berkeley, the University of Texas at Austin, the National Agrarian University of Nicaragua, the Havana Agricultural University (ISCAH) and the University of Las Villas, both in Cuba, and the Tropical Center for Agricultural Research & Education (CATIE) in Costa Rica. Peter has also been a Fellow of the John D. and Catherine T. MacArthur Foundation, and is a Board Member of Focus on the Global South in Thailand.

He is a food rights activist, agroecologist and rural development specialist with a Ph.D. from the University of Michigan.
Format 
505 pages, PAPERBACK
Published 
January 1, 1986 by Grove/Atlantic
ISBN
9780394621432 

(ISBN10: 0394621433)
FIRST EDITION
USED BOOK IN VERY GOOD CONDITION