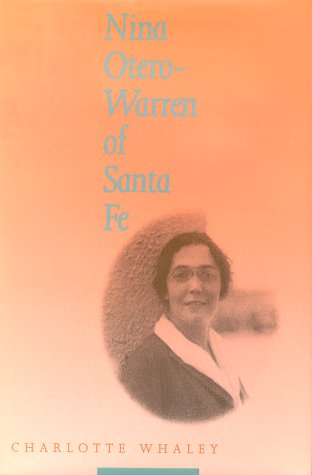 Nina Otero-Warren of Santa Fe Charlotte Whaley
Original price
$14.00
-
Original price
$14.00
Nina Otero-Warren was born to a prominent Spanish land-owning family in Las Lunas, New Mexico, then a territory of the United States. She moved with her family to Santa Fe when her uncle Miguel Otero was appointed territorial governor, and it is with that city that she is most closely identified.
Otero-Warren was intimately involved in the history of New Mexico through her own activities and those of her large, politically active family. Under the guise of widowhood, she gained the freedom to campaign for suffrage, run for public office, serve as an appointed official, homestead land, and form a real estate company. The matriarch of a large family of sisters, nieces, and nephews, she also led an active social life, striking up friendships with the artists and writers who settled in Santa Fe in the 1920s and 1930s. In 1936 she published Old Spain in Our Southwest.
Charlotte Whaley has drawn on interviews with family members and friends, letters, contemporary news accounts, and memoirs to bring to life a woman who successfully negotiated complicated cross-cultural terrain and created a life that transcended the boundaries imposed by early twentieth-century society.
Published
January 1, 1994 by Univ of New Mexico Pr
ISBN
9780826315298
(ISBN10: 0826315291)
Language
English
USED BOOK
IN VERY GOOD -  CONDITION