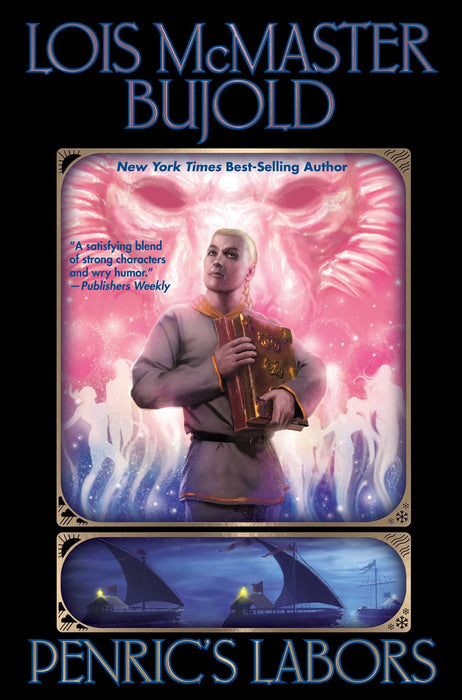 Penric and Desdemona (Publication order) Penric's Labors Lois McMaster Bujold
Original price
$12.99
-
Original price
$12.99
THREE PENRIC AND DESDEMONA NOVELLAS IN THE WORLD OF THE FIVE GODS BY GRANDMASTER LOIS McMASTER BUJOLD. INCLUDES "MASQUERADE IN LODI," "THE ORPHANS OF RASPAY," AND "THE PHYSICIANS OF VILNOC."

Penric and Desdemona are back in three novellas from Grand Master Lois McMaster Bujold.

Masquerade in

Bastard's Eve is a night of celebration for most residents in the canal city of Lodi—but not for sorcerer Learned Penric and his Temple demon Desdemona, who find themselves caught up in the affairs of a shiplost madman, a dangerous ascendant demon, and a very unexpected saint of the fifth god.

The Orphans of

When the ship in which they are traveling is captured by Carpagamon island raiders, Temple sorcerer Penric and his resident demon Desdemona find their life complicated by two young orphans, Lencia and Seuka Corva, who are far from home and searching for their missing father. Pen and Des will need all their combined talents of mind and magic to unravel the mysteries of the sisters and escape from the pirate stronghold.

The Physicians of

When a mysterious plague breaks out in the army fort guarding Vilnoc, the port capital of the duchy of Orbas, Temple sorcerer Penric and his demon Desdemona are called upon by General Arisaydia to resurrect Penric's medical skills and solve its lethal riddle. In the grueling days that follow, Pen will find that even his magic is not enough to meet the challenges without help from dedicated new colleagues—and the god of mischance.

Includes a new introduction, "outroduction," and suggested reading order by Lois McMaster Bujold.

About  Penric's
"A novella filled with a satisfying blend of strong characters and wry humor."— Publishers Weekly

About Lois McMaster
"The pace is breathless, the characterization thoughtful and emotionally powerful, and the author's narrative technique and command of language compelling. Highly recommended."— Booklist

"If you love solid space opera rooted in strong character, you can't go wrong . . .  The Warrior's Apprentice  already displays the craft and the heart which would soon make Lois McMaster Bujold one of the most feted talents in SF."— SF Reviews

"Bujold is adept at worldbuilding and provides a witty, character-centered plot, full of exquisite grace notes . . . fans will be thoroughly gripped and likely to finish the book in a single sitting."— Publishers Weekly  on  Diplomatic Immunity
ISBN
9781982192242
(ISBN10: 1982192240)
Language
English
USED BOOK
IN NEAR FINE CONDITION