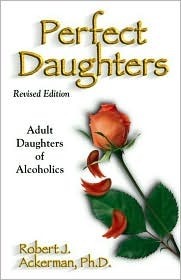 Perfect Daughters Robert J. Ackerman
Original price
$3.49
-
Original price
$3.49
Daughters of alcoholics often assume responsibility for the failures of others. Ackerman explores - and helps conquer - these issues.


Are women who were raised in alcoholic families, adult daughters, different from women who were raised in non-alcoholic families? Dr. Ackerman, a leading expert on alcoholism and the family and especially on children of alcoholics of all ages, has brought together the thoughts, ideas and feelings of more than 1200 women in this first book on adult daughters of alcoholics. Do you find yourself represented in any of the following statements from adult daughters?
If I please everyone, everyone will be happy If I don't get too close emotionally, no one can hurt me Nothing is wrong but I don't feel right Something is missing from my life My relationships usually consist of a lack of trust, fear of intimacy, low self-worth, over-responsibility and picking the wrong person. If you often feel isolated, engage in self-condemnation, experience inconsistency, always want to be in control, rely heavily on others for their approval and believe that you must be perfect, you have many things in common with other adult daughters. Adult daughters are beginning to talk about their experiences, express their fears and share their growth. This book represents many of the stories of childhood pain and the paths to recovery that have been found by many Perfect Daughters.
ISBN
9781558740402
(ISBN10: 1558740406)
Language
English
USED BOOK
IN GOOD CONDITION