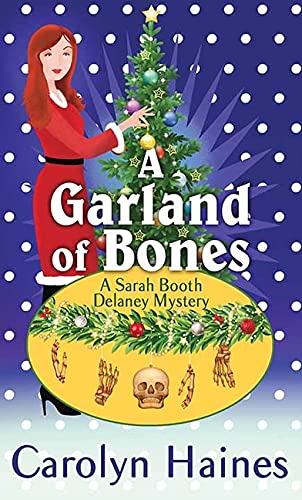 Sarah Booth Delaney #22 A Garland of Bones: A Sarah Booth Delaney Mystery Carolyn Haines
Sold out
Original price
$18.49
-
Original price
$18.49
Spunky southern private investigator Sarah Booth Delaney tackles a string of strange accidents while celebrating the holiday season in Carolyn Haines's cozy A Garland of Bones

Sarah Booth has traded in hosting this Christmas season for a road trip with her besties. Each little Delta town has a special Christmas activity, and Sarah Booth's bff and detective partner, Tinkie, has arranged to rent a limo for the gang and drive to Columbus, MS, to stay in a B&B. Visions of Christmas shopping, parade floats, and romantic rendezvous are already dancing in their heads.

But Christmas cheer soon turns to Christmas fear when, at one event after another, people keep getting hurt. Christmas karaoke gets ugly when one singer's microphone gives her an electric shock. A party during a historic home tour ends with a fall down the stairs for one of Columbus's most disreputable "players." And when the woman who hires Sarah Booth to find the villain behind the so-called accidents is nearly killed with an arrow during a holiday mumming, Sarah Booth knows something more sinister is at work.

The Christmas bells are ringing hauntingly in Columbus this year, and Sarah Booth and Tinkie—with a little help from hunky Sheriff Coleman Peters, of course—are determined to catch the wrong-doers and ensure they receive nothing but coal in their stockings.
ISBN
9781638080480
(ISBN10: 1638080488)