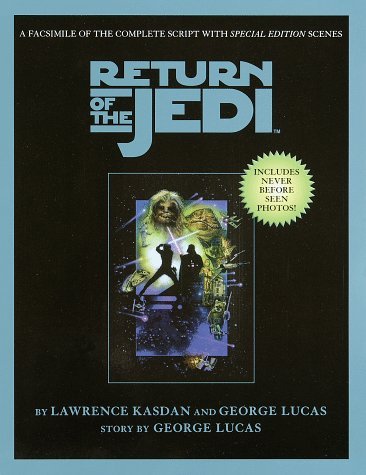 Script Facsimile: Star Wars: Episode 6: Return of the Jedi George Lucas
Original price
$77.00
-
Original price
$77.00
A LONG TIME AGO IN A GALAXY FAR, FAR AWAY. . . .

"Luke Skywalker has returned to his home planet of Tatooine in an attempt to rescue his friend Han Solo . . . Little does Luke know that the GALACTIC EMPIRE has secretly begun construction on a new armored space station even more powerful than the first dreaded Death Star."

INTERIOR: YODA'S HOUSE

He beckons the young Jedi closer to him.

YODA: Luke . . . Do not underestimate the powers of the Emperor, or suffer your father's fate, you will. Luke, when gone am I, the last of the Jedi will you be. Luke, the Force runs strong in your family. Pass on what you have learned. Luke . . . There is . . . another . . . Sky . . . Sky . . . walker.

*****
Even the best actors, the most talented director, and the most amazing special effects can't make a great movie without a superb story to build on. Now here is the complete screenplay of Star Wars: Return of the Jedi—the climactic final installment in the legendary Star Wars Trilogy.
The adventure reaches a fever pitch with Luke Skywalker's confrontation with monstrous gangster Jabba the Hutt, and the daring rescue of Han Solo and Princess Leia . . . The breathtaking high-speed battle in the Forest of Endor . . . The heartbreaking death of beloved Jedi Master Yoda . . . And Luke's powerful final face-off with Darth Vader and the evil Emperor himself.

Fully illustrated with original storyboard art—and featuring an introduction especially written for this edition by producer Howard Kazanjian—this definitive volume is a must for every Star Wars library.
Published
November 17, 1998 by Del Rey
ISBN
9780345420824
(ISBN10: 0345420829)
Language
English
USED BOOK
IN VERY GOOD CONDITION