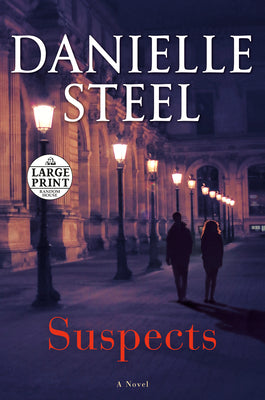 Suspects Danielle Steel
Original price
$12.99
-
Original price
$12.99
NEW YORK TIMES BESTSELLER - A dedicated CIA agent becomes an unexpected ally to a woman haunted by the kidnapping of her family, in this thrilling novel from #1 New York Times bestselling author Danielle Steel.

Theodora Morgan is fashion royalty. Founder of a wildly popular online shopping service, she is one of the most successful businesswomen in the world, although she prefers to keep a low profile, especially over the last months. It was a year ago when the unthinkable struck her family, and her husband, industry mogul Matthieu Pasquier, and their son were kidnapped and held for ransom--a nightmare that ended in tragedy.

The case has gone cold, despite evidence linking the crime to Matthieu's Russian competitors. Theo has reluctantly gone back to work running her company. On the flight to a launch party for one of her highly anticipated pop-up shops in New York City, she crosses paths with high-society networker Pierre de Vaumont. Theo politely invites him to her event--unaware that Pierre has been flagged by the CIA.

Senior supervising CIA operative Mike Andrews investigates Pierre's suspicious Russian contacts and clears him to enter the country, but when he realizes that Theodora Morgan is on the same flight, he becomes concerned for her safety. Posing as a lawyer, Mike begins a covert mission--starting with Theo's opening party. When Mike and Theo meet, their connection is instant, but Theo is completely unaware of Mike's true objective or identity... or that the life she is rebuilding is in grave danger.
Published
June 28, 2022 by Random House Large Print Publishing
ISBN
9780593587829
(ISBN10: 0593587820)