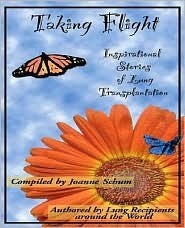 Taking Flight: Inspirational Stories of Lung Transplantation Joanne M. Schum (Compiler)
Original price
$9.00
-
Original price
$9.00
Lung Transplantation is still relatively new compared to other transplantation surgery. The first successful heart/lung transplant took place in 1981, with the first successful single lung transplant taking place in 1983. It was not until 1986 the first successful double lung transplant takes place. Even more recent is the living lobar transplant which the first successful one being in 1990. The survival rate continues to rise with the introduction of new surgery techniques, drug therapies and physical therapy.

Often those given the option to have a lung transplant, have no place to turn and learn about the success and accomplishments of those receiving a single lung, double lung, or heart/lung transplant. It can become overwhelming being in the process of lung transplant and not hearing how the majority of people do afterward. Well the majority are out living very full lives.

These lives include, school, play, marriage, adventure, sports, careers, travel, volunteering, retirement and enjoying life and breathing. Family life is enhanced and new exciting opportunities open many eyes. But where can you read about this new beginning, new life, new breath you are given? Well, until now, there was no place. So that has changed with this book.
Taking Flight is a collection of stories from around the world, from recipients of all ages, all lung illnesses and what these recipients are now doing in their lives. Taking Flight is an opportunity to see that organ donation does work and that lives return to normal after surgery. Taking Flight can inspire those who pre transplant to see what they may be able to accomplish one day. It will bring to light that this is a great option for someone with end stage lung illness and your dreams are possible. For someone who has had a lung transplant, it is an inspiration to see others doing many of things you are now accomplishing yourself. An affirmation of sorts.

The butterfly theme is a symbol to those who have had a lung transplant and experienced the life within them and around them opening up and taking off. Many of these stories tell of a life long lung condition that did not allow them to take off into life like so many others do. But now they can and they take every opportunity that is given to them to go out and experience life. It shows that the very young are able to run, play, go to school, and do the things they dreamed of. It allows young people to pursue their dreams of a career, or marriage and finally making that much desired pursuit of a goal, a reality. For those who are retired, it allows them to spend time with family, friends, travel and become active once again.

Taking Flight is a starting point for those who are, considering lung transplant, or have had a lung transplant. From here you will soar and surprise, grow and learn, experience and share, while you breathe and spread your wings and fly.
Published
August 14, 2002 by Trafford Publishing
ISBN
9781553696841
(ISBN10: 1553696840)
Language
English
USED BOOK
IN VERY GOOD +  CONDITION
GIFT GREETING ON TITLE PAGE POSSIBLE FIRST NAME AFTER GREETING ADDRESSED BY AUTHOR