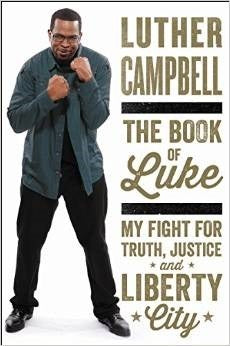 The Book of Luke: My Fight for Truth, Justice, and Liberty City Luther Campbell , Tanner Colby
Original price
$12.99
-
Original price
$12.99
Born in Miami's notorious Liberty City, Luther Campbell witnessed poverty, despair, and crime firsthand. His uncle Ricky did not want him trapped by the "invisible chains" of systemic racism, so Ricky schooled him on the necessity of a black man running his own life, controlling his livelihood, and owning property.

Embracing these lessons, Campbell discovered his gift for entrepreneurship: He created one of the first hip-hop record companies, Luke Records, which started out of a shed in his mom's backyard and grew into a multimillion-dollar enterprise. As a rapper on his own label, Luke became known as the "King of Dirty Rap" and helped pioneer the worldwide phenomenon of Miami Bass. He went on to become the front man and manager for the rap group 2 Live Crew, and was key to the success of the group's controversial platinum recording As Nasty As They Wanna Be.

His hugely popular and provocative music infuriated the Man, and Luke was marked as public enemy number one when hip-hop crossed the color line into white America. Campbell would spend more than a million dollars of his own money fighting cops and prosecutors, and he went all the way to the Supreme Court to protect his—and every other artist's—right to free speech, setting landmark legal precedents that continue to shape the entertainment industry to this day.
In Campbell's clear and honest voice, he shares unforgettable stories of his rise to celebrity status, including illicit tales from his raunchy concerts. He also breaks down how he lost his fortune, but in the process gained a better perspective on life. His father taught him to be responsible for his actions and to be proud of himself. Campbell expressed this by being cocky and holding his head up high, but, as he acknowledges, "America has never been an easy place for a black man who doesn't know how to apologize."

Touching on some of the most pressing issues of our time, The Book of Luke is a raw and powerful memoir of how one man invented southern hip-hop, saved the First Amendment, and became a role model for the disenfranchised people of the city he calls home.
Format 
288 pages, Hardcover
Published 
August 4, 2015 by Amistad
ISBN
9780062336408 

(ISBN10: 0062336401)
USED BOOK IN VERY GOOD CONDITION