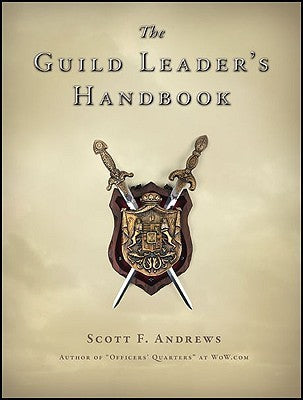 The Guild Leader's Handbook: Strategies and Guidance from a Battle-Scarred MMO Veteran Scott F. Andrews
Original price
$7.00
-
Original price
$7.00
Who said dragon slaying was easy? Leading a guild in massively multiplayer online (MMO) games like World of Warcraft is more difficult than most players think. Your members look to you to solve problems, plan raids and battles, and lead them to riches and renown.
In The Guild Leader's Handbook , you'll learn how to create, build, and maintain a successful guild. Author Scott F. Andrews, a longtime guild leader and guild advice columnist for WoW.com, will show you how to guide your guild to glory. Whether you're trying to confront a monstrous threat, conquer your rivals, or simply reign supreme as the wealthiest traders in the galaxy, The Guild Leader's Handbook offers invaluable guidance to help you achieve your goals.
You'll learn how

Whether you're an established guild leader in need of sage advice or a dedicated player seeking to form your own community, The Guild Leader's Handbook is an essential guide to managing a guild successfully in any MMO game.
Published
May 6, 2010 by No Starch Press
ISBN
9781593272586
(ISBN10: 1593272588)
Language
English
USED BOOK
IN NEAR FINE CONDITION
AUTHOR SIGNED GIFT GREETING ON TITLE PAGE