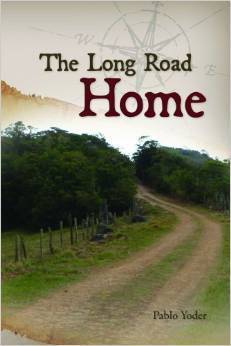 The Long Road Home Pablo Yoder
Original price
$9.00
-
Original price
$9.00
Sanford and Martha Yoder had little idea what awaited them when they left their home in Virginia to move their large family to Costa Rica. Though they knew they would have to learn a new language and a different culture, they did not anticipate such primitive housing, drenching rains, or daunting mud holes. And they certainly were not expecting active volcanoes or earthquakes...

To ten-year-old Pablo, it was all one big adventure. Rushing rivers, picturesque lakes, undiscovered islands, secret canyons, secluded banana groves, gigantic tropical trees, exotic birds, mischievous monkeys ... a whole new world was waiting to be explored just outside his door.

But inside, another Voice was calling. Pablo, hungry for excitement, wasn't ready to listen. Instead, his innocent adventures took a darker turn, and his parents' concern changed to alarm as they watched him choose his own lonely and increasingly wicked path.
Published
October 22, 2008 by TGS International
ISBN
9781885270856
(ISBN10: 1885270852)
Language
English
USED BOOK
IN VERY GOOD CONDITION